When you consider just how much money you've spent on all of your university textbooks, it's only right that you get some of that back. Luckily, there are a few options when it comes to selling your textbooks.
Whether you sell them to a friend, back to the university or to an online platform you'll be sure that you're recouping at least some of the cost. It might be a good idea to check websites like extras.com.au to find out whether there's a deal or discount code for textbooks before you buy them at full price.
In Australia, students and graduates have a few places they can sell their unused or old textbooks, most of which are easy to use and online. We'll take a look over five of the different ways you can sell your texts books in Australia below and a few tips to get back the most. 

Zookal – Recommended place to sell text books

Australia's largest textbook marketplace with over 1.2 million books.

Visit Zoookal.com.au now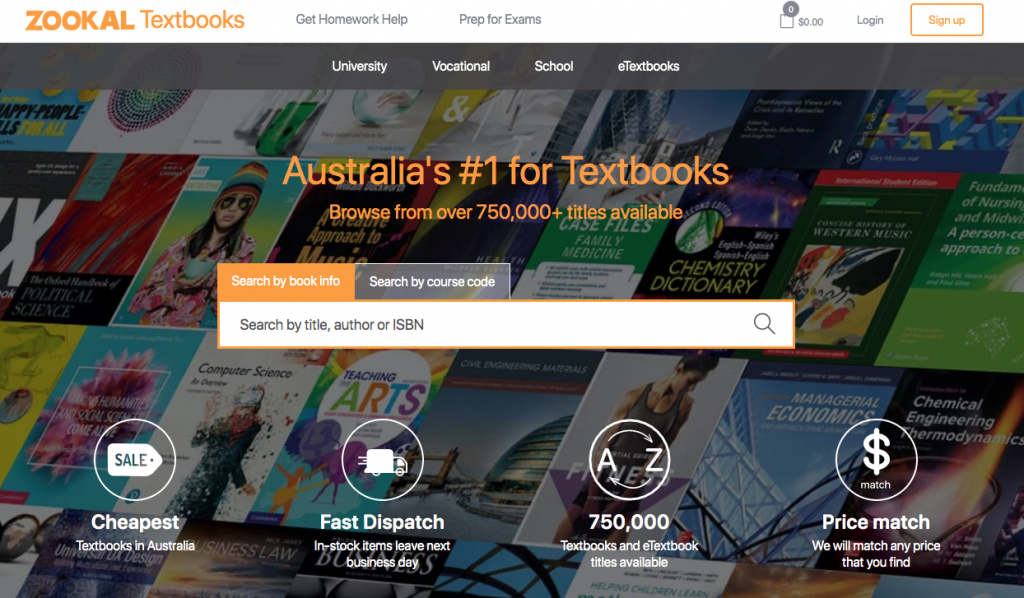 Sell Through StudentVIP
First up is the Australia-wide student website, StudentZIP. Selling your textbooks here is made easy by the super simple five-step process. All you really need to sell your textbooks is an account on StudentVIP, a listing and to choose who you'd rather sell to; students on campus, students in your city or students across the country.
Once you've listed your textbooks you'll be buzzed when someone takes an interest and you'll be able to agree on a time and place to make the swap for your textbooks. Whether it's on campus, in a coffee shop or anywhere else, the whole process is really easy.
Co-op's Buyback and Exchange
Unlike selling to other students on StudentVIP, Co-op buys textbooks directly from Aussie students and lists them for sale in their database. This makes things a whole lot easier as you'll have an assured buyer – so long as they don't have too many titles already.
All you'll need to do is head over to Co-op's seller page and enter in your textbook's ISBN. The page will tell you right away whether Co-op is taking your title and how much you'll be offered. If you agree to their purchase or buyback price the next step is just to take your textbook to their store and you'll be given a gift card. This way you'll be saving on your next set of books.
Gumtree or eBay
One website that many students forget to take a look at is Gumtree and eBay. When it comes to selling textbooks, both of these websites are going to be your saviour as they will list your titles on Google as well as in ads so you don't have to do any of the hard marketing work. Just list your titles with a few clear images and wait for a buyer to message you.
Most buyers will need you to send your textbooks across the country or the city, so be sure to factor in shipping costs. If you're not too sure of the shipping fees, you can check on Australia Post for box sizes, weights and express prices to give you an idea.
Bookon Marketplace
Another fantastic way for Australians to sell their textbooks is on Bookon's easy to use marketplace. All you need to do to sell your books on the Bookon marketplace is to choose the Sell Books tab in the main menu and list your textbook's title and ISBN number. You'll be able to list your textbook on the Display Shelf immediately.
When someone takes an interest in your book or buys it, you'll have to give up 7% of the sales price to Bookon, however, it's a small price to pay for such an easy selling process. This platform works similar to StudentVIP in that you'll have to ship off your books to buyers interstate, so be sure to know your shipping fees ahead of time.
Head to Your Local Bookstore
If you're less into the idea of listing your books online and having to ship them out to buyers, then heading down to your local bookstore is the next best thing. You're able to just hand over your textbooks for some quick cash or a gift card and be done with the whole process.
Something to keep in mind when selling to a local bookstore is that there may be a lower final price for your books considering they need to be sold for less their online counterparts.