Let Extras help you save on hundreds of Australian Hungry Jacks menu items with our Hungry Jacks coupon vouchers.
We're constantly updating our Hungry Jacks vouchers, deals and coupon lists with the latest deals so you don't miss a thing. All you have to do is download or screenshot our vouchers or coupons at your local Hungry Jacks store.
Hungry Jacks Voucher Below Courtesy of Extras
1 Bacon & Egg Muffin, 1 Hash Brown & 1 Small Coffee for $3.95
2 Brekky Wraps for $6.95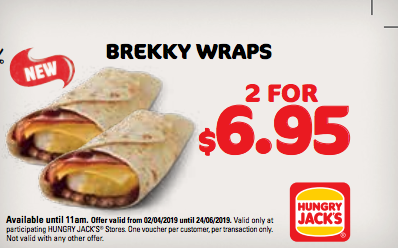 1 Whopper Jnr, 1 Small Chips & 1 Drink for $5.00
2 Small Whopper Meals for $11.45
1 BBQ Cheeseburger, 1 Small Chips & 1 Drink for $3.95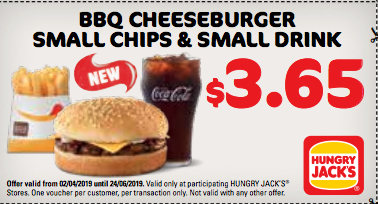 1 Chicken Royle, 1 Small Chips & 1 Drink for $3.95
2 Whopper Jnr & 2 Small Chips
2 Small Tendercrisp Meals for $11.95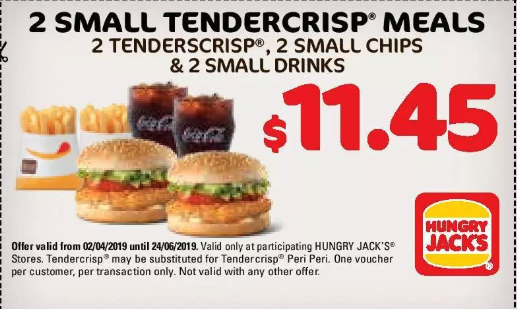 We've got our hands on the latest Hungry Jack's Vouchers and coupons and we've posted JPG and PDF versions for Extras readers to get their hands on. Most Hungry Jacks stores accept both printed and digital formats. Choose your voucher and save!
Take a look below for access to our latest HJ deals, discounts and freebies.
The latest Hungry Jacks vouchers include:
• Small Coffee at Hungry Jacks for $1 (NEW)
• Medium Battered Onion Rings at Hungry Jacks for $2 (NEW)
• Big Brekky Wrap at Hungry Jacks, hash brown & small coffee $5.95 (NEW)
• 2 Tendercrisp at Hungry Jacks for $7.95
• 2 Whoppers at Hungry Jacks $7.95
• 2 Bacon Deluxe at Hungry Jacks $8.25
In-App Exclusives
At Extras, you'll never miss Hungry Jacks' app vouchers. Download the Hungry Jacks Shake & Win app and we'll keep you updated on the latest deals, in-app exclusive and occasional freebies. You can find the Shake & Win app for iOS here and for Android here.
Some of the latest Hungry Jacks in-app exclusive deals include:
• $2 off Vegan Cheeseburger
• $2 off Vegan Muffin
• $9.95 18 Nuggets and 2 Medium Chips
• $4.25 Choc Lava Cake & Small Coffee or Soft Drink
• 2 Whopper Cheese for $8.25
All you'll need to do is download the Shake & Win app and we'll let you know of the latest exclusive in-app meals and deals.
News and Menu Changes
We don't just offer great deals and discounts, but we also keep everyone in the loop with the latest Hungry Jacks menu items and service changes. Whether you're looking for Hungry Jacks delivery updates or for a limited time burger, you'll be able to find it at Extras.
Here are a few Hungry Jacks' news posts you might've missed:
• Hungry Jack's Delivery available in 90 locations to over 1,600 suburbs.
• Hungry Jacks unveils new vegan breakfast muffins available until 11am.
• Limited-time Coco Pops
• Thickshake and Storm on sale 24hrs.
To keep up to date with all the newest menu items and delivery changes just like us on Facebook. Using Our Coupons To use the coupons, vouchers and freebies that you find on Extras simply take a screenshot of the voucher and its code. You can also download our PDF or JPG versions and display these on your phone or print them out.
Most Hungry Jacks stores across Australia accept both printed and digital coupons and vouchers, however, there might be a few who prefer one method over the other. Leave us a comment if you've noticed your local Hungry Jacks gives you trouble when cashing in our vouchers. For in-app rewards and vouchers, simply download the Shake & Win app and present your winning barcode to a team member at the register.